Rosa García-Verdugo, author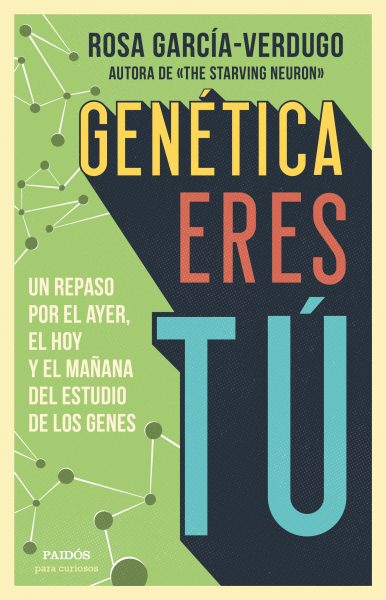 Today I come to talk about my book. I always wanted to say this phrase. And today, I can finally use it. And since November 17, my first book in the series Para Curioso s by Editorial Paidós (Grupo Planeta) has been on sale.
My editor, Sergi, has been on sale for almost two years now. He called me asking if I had considered writing a science book, and he gave me total freedom to choose the subject. As I am a biochemist, and since I was a child I have a total fascination with the world of genetics, I did not hesitate, my book will deal with genetics. And I wrote the book on genetics that I would like to read if I didn't know anything about it.
A book that begins with a journey through the past of genetics and the well-known peas of Mendel and the observations of Darwin, but that in Instead of staying there like most textbooks on the subject, it goes on to explain in a practical way –and close, I think– what genetics is for today and what we can expect from it in the future. Although this book had been written for almost a year when the COVID-19 crisis broke, I could not stay out of it and of course, the book also includes a short chapter dedicated to the queen of today, but from the perspective of genetics.
There are almost three hundred pages of pleasant reading, where I try to bring close references to make it easier to understand concepts, which at first can confuse even experts, as well as small notes and curiosities that can be brought to the table on Sunday to share with family or friends
The book is titled Genetics is you and is a reference to the beginning of the first chapter, which deals with the past of genetics. That chapter begins with a reflection on what genetics means, not just for scientists, but for all living things, including ourselves naturally. And the way it occurred to me to express it was by adapting a classic poem. Do you recognize the reference?
As I say in the book, I hope that the author, Gustavo Adolfo Bécquer, does not turn in his grave when he sees what I did with his poem, but I hope he forgives me the license for the cause .
I have thought that to open my mouth, I am going to copy here the content of one of the so-called curious facts of the book, which by the way also has drawings! and I have been able to count on a luxury illustrator: Javier Pérez de Amézaga Tomás. I hope this aperitif will leave you wanting to sink your teeth into the book and that taking advantage of the fact that the holidays are approaching and this year I foresee that we will spend a lot of time at home, you will put it in the letter to the Three Kings.
Scientists placed

Well, if you believed that the inventor of the PCR was the only scientist or inventor with a fondness for drugs, I am disappointed, because he was not alone. In fact, you are part of a larger group of well-known minds who also like to go "on the road" from time to time. I bet some of the names on this list are going to surprise you…

Based on your preferences for a specific drug:

LSD . Steve Jobs and Bill Gates have something more in common than being rivals in the computer world. Francis Crick, one of the discoverers of the three-dimensional structure of DNA said he saw it on an LSD trip.

Cocaine . The inventor of the incandescent light bulb Thomas Edison was going for coca, as was the father of psychoanalysis Sigmund Freud and my childhood hero, who although he is only a literary genius, also deserves a place on this list: Mr. Sherlock Holmes .

Marijuana . Among those who liked to smoke Bob Marley we have the evolutionary biologist Stephen Jay Gould and the astrophysicist Carl Sagan

Combination of different substances . Finally, we have those who like to mix drugs, such as Richard Feynman (famous physicist), who liked marijuana and LSD, or neuroscientist John C. Lilly, who used LSD and ketamine. it falls short and there are many others who also "high" because, with the exception of cocaine, the other drugs have among their effects the liberation of creativity from the yoke of prefrontal control and for this reason it is possible that they have been preferred —and a help – in moments of «eureka» for some of these geniuses.

File:

Author: Rosa García-Verdugo

Publisher: Ediciones Paidós

Year: 2020

Collection: For curious .

ISBN: 978-8449336584

About the author: Rosa García-Verdugo studied biochemistry in Oviedo, finishing these studies with a research project at the University of Leiden (Netherlands). Then he began his journey through various laboratories in Madrid, Barcelona and finally Munich, where in 2015 he obtained his doctorate in Neurobiology at the Max-Planck Institute. After ten years dedicated to science, he decides to hang up his gown and delve into his other passion: scientific communication. She currently works as a freelance writer and communication consultant for biotechnology companies. She is a regular contributor to Mapping Ignorance .

At Editoralia, readers, authors or editors present books that, due to their attractiveness, novelty or impact (personal or general), may be of interest or utility for the readers of the Notebook of Scientific Culture.

The article Genetics is you has been written in Notebook of Scientific Culture .