An international group led by Dr. Banafshe Larijani, an Ikerbasque researcher attached to the Biofisika Institute (UPV / EHU, CSIC), has developed a new diagnostic method that makes it possible to accurately predict which cancer patients will respond positively to immunotherapy. This method will allow oncologists to tailor treatment to each patient and avoid unsuccessful therapies.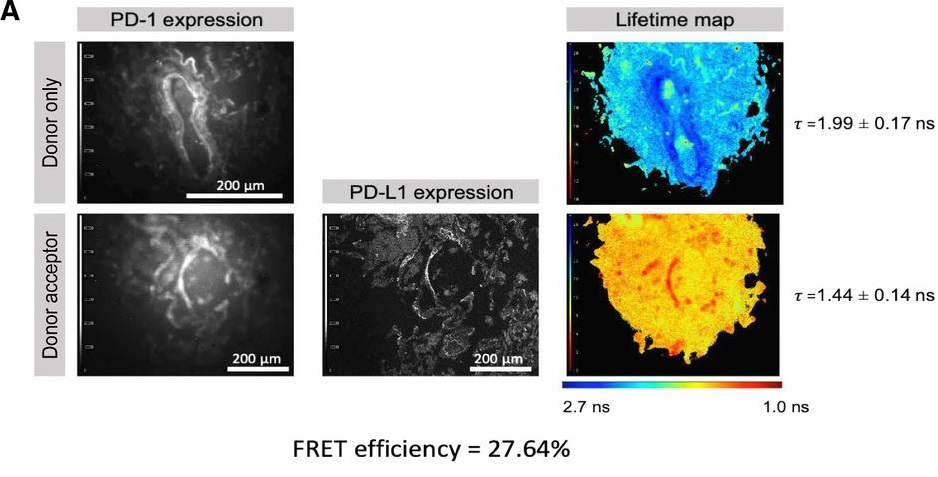 Immunotherapy is a type of cancer treatment that helps the patient's immune system fight it and has a profoundly positive impact in cancer treatments, although it does not work in all cases: it is very successful in some patients, while in others it has little or no effect. Given the risks inherent in these procedures, a growing need has been established to define which patients are most likely to benefit, avoiding unnecessary exposure to those who will not.
In the group led by Dr. Larijan, who is also Director of the Center for Therapeutic Innovation (CTI) at the University of Bath (United Kingdom), colleagues from other centers in the Basque Country (Biocruces, PIE, BCAM), Europeans and the company FASTBASE Solutions Ltd. have collaborated. The new forecasting tool has been developed using an advanced microscopy platform that identifies the interactions of immune cells with tumor cells and also reports on the activation state of immune checkpoints that dampens the antitumor response.
In a healthy person, the so-called points Immune control systems tightly regulate the body's immune response, acting as a switch to prevent go autoimmune and inflammatory diseases. Dr. Larijan's team has analyzed an immune checkpoint that consists of two proteins: PD-1 (present in immune cells called T lymphocytes) and PD-L1 (present in other types of immune cells and on the surface of many types different tumors).
Generally, when PD-1 on the surface of T lymphocytes couples with PD-L1 on the surface of other immune cells, it effectively shuts down the immune function of the T cell. that's what tumor cells do: by expressing PD-L1 on their surface, they activate PD-1 in the T lymphocyte, thereby deactivating its antitumor function and allowing tumor survival and growth. Inhibitors used in immunotherapy work by disrupting the interaction between PD-L1 in the tumor and PD-1 in the T cell, thus restoring the antitumor activity of the patient. This new tool determines the extent of the PD-1 / PD-L1 interaction in a tumor biopsy, predicting whether checkpoint inhibitor therapy is likely to have significant clinical benefit.
"Currently, decisions about Whether to proceed with treatment with checkpoint inhibitors is based simply on whether PD-1 and PD-L1 are present in the biopsies, rather than their functional status. However, our work has shown that it is much more important to know that the two proteins actually interact, and therefore are likely to have a functional impact on tumor survival, 'says Professor Larijani.
Reference:
19659003] Lissete Sánchez-Magraner, James Miles, Claire L. Baker, Christopher J. Applebee, Dae-Jin Lee, Somaia Elsheikh, Shaimaa Lashin, Katriona Withers, Andrew G. Watts, Richard Parry, Christine Edmead, Jose Ignacio Lopez, Raj Mehta, Antoine Italiano, Stephen G. Ward, Peter J. Parker and Banafshé Larijani (2020) High PD-1 / PD-L1 checkpoint interaction infers tumor selection and therapeutic sensitivity to anti-PD-1 / PD-L1 treatment Cancer Research doi: 10.1158 / 0008-5472.CAN-20-1117
Edition produced by César Tomé López from materials supplied by UPV / EHU Komunikazioa
The article How to predict the success of the treatment Cancer treatment with immunotherapy has been written in Scientific Culture Notebook .